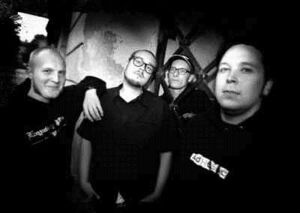 Adhesive formed in Katrineholm, Sweden and were active from 1994-2002.
Biography
Edit
Adhesive gained much notariety in Sweden and some of Europe, but never gained much success accross seas. Only their first full length, "Sideburner" saw an international release, which was released by One Foot Records in the United States. They were known for their political lyrics and vocal harmonies, the latter being much more prevalent in their early material. After "Sideburner" the band took a musical turn. While still playing skate-punk, they went for more of an edgy feel, with thrashier riffs, less melodic melodies (screaming was introduced to vocal lines), and the use of less vocal harmonization. In their later years, Adhesive made the trip out to Canada (together with another swedish band, Boneweary) for their first and only transcontinental tour.

Members of Adhesive now perform primarily in The Indecision Alarm. Other former members also played in bands such as Trenches, The Typewriter Romantics, Haveri, The New Mess, Straitjacket Generation, and Dia Psalma.
Robert Samsonowitz – Drums
Micke Claesson (later Micke Fritz) - Vocals and guitar
Geir Pedersen - Vocals and bass
Mathias Andersson - Guitar and vocals
Pontus Bednarz - Guitar(Joined the Band after Mathias Andersson left)
Discography
Edit
1994 – Thrust And Burn (casette tape) (Independent) (out of print)
1995 – Yoghurt (Brööl) (out of print)
1996 – On A Pedestal (Ampersand ) (out of print)
1998 – Prefab Life (Ampersand ) (out of print)
1999 – Your World Of Noones (Locomotive) (out of print)
1997 – No Better, No Worse (with Pridebowl, Bad Taste Records) (out of print)
Total Presses
Edit
Adhesive - 1994 - Thrust & Burn (Self Released)
Adhesive - 1995 - Yoghurt (Brööl Records - 1st press)
Adhesive - 1995 - Yoghurt (Brööl Records - 2nd press)
Adhesive - 1996 - On A Pedestal (Ampersand Records - 1st press)
Adhesive - 1996 - On A Pedestal (Ampersand Records - 2nd press)
Adhesive - 1996 - Sideburner (Ampersand Records)
Adhesive - 1996 - Sideburner (Onefoot Records)
Adhesive - 1997 - No Better No Worse, split with Pridebowl (Bad Taste Records)
Adhesive - 1998 - Prefab Life (Ampersand Records)
Adhesive - 1998 - From Left To Right (Ampersand Records)
Adhesive - 1998 - From Left To Right (Locomotive Music)
Adhesive - 1999 - Your World Of Noones (Locomotive Music)
Adhesive - 2000 - We Got The Beat (Ampersand Records)
Skatepunkers
Edit