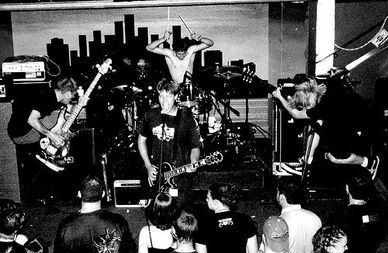 Belvedere formed in 1995, originally not meant to play a show, they gained a cult following in Canada's punk scene. Known for their blazing fast speed and melodic vocals, the band have also appeared on the Warped Tour and Groezrock Festival bills.
Biography
Edit
Taking their name from the '80s sitcom, Belvedere began in Calgary, Alberta, in 1995 as the three-piece of Steve Rawles (guitar/vocals), Brock (bass), and Dan Hrynuik (drums). As the years progressed along with their revolving lineup, Belvedere remained with their melodic pop-punk sound that looked up to the likes of Bad Religion and NOFX. Eventually recruiting second guitarist Scott Marshall, replacement drummer Jay Hollywood, and a replacement bassist Jaison Synclair, the quartet released their debut album, Because No One Stopped Us, in 1998 through Hourglass Records and 206 Records. After spending most of 1999 on the road - along with Bad Religion and Strung Out, for a stint - Jump Start Records released Belvedere's follow-up album, Angels Live in My Town, in early 2000. In 2001, Jump Start Records and the Montreal imprint Union 2112 Records released Twas Hell Said Former Child, Belvedere's third album which coincided with their first European tour. In 2003, a split with Downway another skate-punk band from Calgary entitled, "Hometown Advantage" was released on Union 2112 Records. When it came time to recovene for another studio album, Belvedere joined producer Blair Calibaba (Sum 41) in Calgary for the recording of Fast Forward Eats the Tape. Shared dates with Death by Stereo, Tsunami Bomb and Misconduct followed in the spring of 2004. The band broke up in late 2005, playing their last show to their hometown Calgary crowd in November. Steve and Graham later went on to form This is a Standoff in 2007, while Scott and Jaison both found work as musicians in other genres of music, respectively.
Past members
Edit
Steve Rawles
Scott Marshal
Jaison Synclair
Graham Churchill
Jay Hollywood
Chris Foster
Dan Hhrynuik
Brock
Discography
Edit
EPs
1998 — Because No One Stopped Us (out of print)
2000 — Angels Live in My Town (out of print)
2001 — Twas Hell Said Former Child (out of print)
2004 — Fast Forward Eats The Tape
2016 — The Revenge of the Fifth
V/A
Punk Rock Volume 1
2 Sugar Sampler Volume 2
83 Miles from Everything
Back Off!
For the Kids
Fuckin' Eh Volume 2
Immature and Irresponsible
Power of Music
Sir Punkly Records Benefit Compilation
Songs in Key of Lurch (Volume 1)
Hometown Advantage
DVDs
Captain Everything/Divit/Belvedere - Live at Camden UND
Skatepunkers
Edit
External links
Edit
Community content is available under
CC-BY-SA
unless otherwise noted.