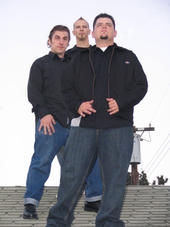 By All Means is a fast, skatepunk / melodic hardcore band from Los Angeles, California, USA.
Biography
Edit
By All Means prides themselves in their high octane, supercharged live shows. They have been a band for most of the last decade, evolving into a punk/pop sound with high-speed rhythms and harmonies. Their home area, South Bay, has produced other punk bands such as Pennywise and The Descendents. The group gigs relentlessly around the LA area in order to build a regional fanbase.
Felony Records had By All Means on their roster for a period of time.
They recently spent time in the studio to prepare their fourth release, which remains untitled. The tracks were recorded and finished, but it is unknown if the band will decide to release them.
Craig Petorella - Vocals, Guitar
Brandon Anthony - Drums
Grant Woofter - Bass
Discography
Edit
2004 - Bare Minimum (Independent)
2006 - What You Make Of It (Independent)
2011 - Untitled (Unreleased)
200x - Hold Onto Your Grudge (Independent)
Community content is available under
CC-BY-SA
unless otherwise noted.