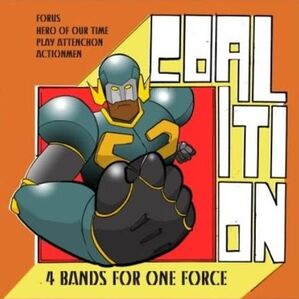 Coalition — 4 Bands For One Force is the name of a 4-way-split that features Forus from France, Actionmen from Italy, Hero Of Our Time from the USA and Play Attenchon from Peru. It was released in 2009 by the Japanese label Bells On Records as a CD.
Tracklist
Edit
Forus — I Only Go To School For The Handrails [2:35]
Forus — Under Stress [M-Sixteen cover; 1:38]
Forus — The Unlucky Number [2:11]
Actionmen — Ram Das [3:13]
Actionmen — Perinos [2:15]
Actionmen — The Beast [1:10]
Hero Of Our Time — Spare Some Change [3:00]
Hero Of Our Time — I've Never Been Good At Saying Goodbye [2:26]
Hero Of Our Time — The Army Of Carbon Copies [2:59]
Play Attenchon — Back To Square One [3:48]
Play Attenchon — Against The Wall [2:11]
Play Attenchon — Insult To Injury [Craig's Brother cover ;3:31]
total running time: 30:39
Tracks 1 & 3: Music & lyrics by Michel Garcia
Track 2: Music & lyrics by M-Sixteen
Tracks 4-6: Music by Actionmen; lyrics by Libero Foschi
Tracks 7-9: Music & lyrics by Hero Of Our Time
Tracks 10/11: Music & lyrics by Play Attenchon
Track 12: Music & lyrics by Ted Bond
Recording and production
Edit
The recording of Forus' share of the split took place at All Production Studio with sound engineering by Christian Carvin. It was mastered at La Source.
Actionmen's share was recorded in August 2008 at Studio 72 in Ravenna, Italy.
Play Attenchon's songs were recorded at Mudano Studios, Peru by Saito Chinén and mixed & mastered at Blasting Room Studios in Colorado, USA by Felipe Patiño and Jason Livermore.
All songs were produced by Bells On Records. Libero Foschi is responsible for art and layout.
Skatepunkers
Edit
Community content is available under
CC-BY-SA
unless otherwise noted.