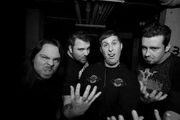 Counterpunch is a skatepunk band from Chicago, Illinois, USA.
Biography
Edit
Radtone Records (Japan) released Counterpunch's debut album in 2006. The band independently released the album in the USA in 2007 (this time with the title "Counterpunch) and toured the country in support of it. This enabled them to sell out the first pressing.
Counterpunch has since toured with Rise Against, Strung Out, A Wilhelm Scream, The Swellers, Much The Same, and other notable skatepunk bands.
Their sophomore album was released first in Japan once again, under the title "Heroes And Ghosts". Later, the band re-released the album as "Dying To Exonerate The World" in the USA.
They describe their own sound as "frenetic punk rock with just enough artificial sweeteners added in to appease the ladies".
Jim - Drums
Rod - Bass, Vocals
Eric - Guitar, Vocals
Brian - Guitar, Vocals
Discography
Edit
2006 - An Idiot's Guide To Being An Asshole (Radtone; Japanese Release Of Counterpunch)
2007 - Counterpunch (Punch It!)
2010 - Heroes And Ghosts (Radtone)
2011 - Dying To Exonerate The World (Go Kart; American Release Of Heroes And Ghosts)
2014 - Bruises (Cyber Tracks)
Skatepunkers
Edit