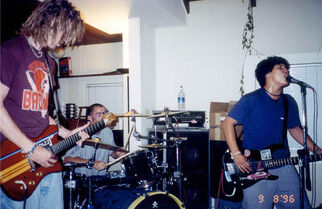 Donuts N' Glory formed in 1994 and were from Costa Mesa, California.
Biography
Edit
A couple high school friends with similar musical tastes started playing together with no intentions of anything serious. They put an ad up in a local record store (Vinyl Solution in Huntington Beach, CA) seeking a singer and bass player. A few days later they met and played with Freddie, who played bass and sang. They liked him instantly and began writing songs, playing parties, and developing a fan base. Once a buzz started developing, they started playing real shows at local clubs. A friend of theirs released the "I can Pee EP" on Pinkie Records out of San Diego. His good friend knew someone in Blink (who later became Blink-182) and they landed a show with them. This got them some attention and they signed a two record deal with Liberation Records out of Anaheim, California, started by a sixteen-year-old, Dave T. The band was featured on the Liberation Records compilation, "Punk Sucks". Dave set the band up with bigger shows, opening for bigger acts, like No Use for A Name, Suicide Machines, Nonsense, Ten Foot Pole, The Queers, The Quincy Punks, etc. In 1996 they recorded "When Pregnasaurs Ruled The Earth" at Westbeach Recorders in Hollywood with Donell Cameron, the same studio where Fat Wreck Chords had used for recording many of its bands in their early years. After the release of their record, they toured the west coast once, and toured to the east coast and back twice. A second album was never recorded.
Brian - Guitar
Dan - Guitar
Garry - Drums
Freddie - Bass
Discography
Edit
1996 — When Pregnasaurs Ruled The Earth
Skatepunkers
Edit
Community content is available under
CC-BY-SA
unless otherwise noted.