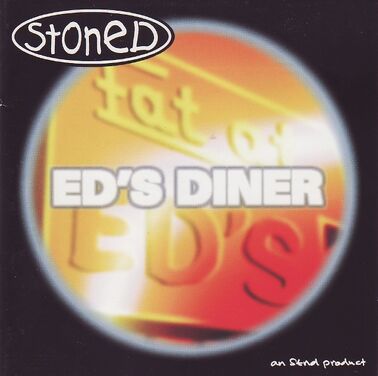 Ed's Diner is the second Album released by the Swedish Skatepunk band Stoned . It was released in 1997 by Ampersand Records as a CD.The Album is out of print.
Tracklist
Edit
Dinner At Ed's [2:24]
King Of the Air [2:07]
Shopping Around [2:25]
Nothing [1:55]
This One's For Chuck [2:36]
Fried Eggs [1:18]
Anti-Static [2:25]
Peacful Palace [2:43]
Supermarket Girlfriend [2:32]
Magic Plan [2:44]
Homecoming Queen [3:27]
The Only One [3:20]
total running time: 29:49
All Songs were written by Bosse except Fried Eggs by Magnus
All Lyrics were written by Magnus except King of the Air,Ant-Static,Peacful Palace,Magic Plan and The Only One by Bosse and Nothing by Zenga
Recording and production
Edit
Recording and Mixed at Traxton Recordings in early 1997.Mastered at Cutting Room.Addition Recordings done at Evil Bertil
Personnel
Edit
Producer
Stoned
Arranged
Stoned
Sound Engineers

Per Granberg
Christian Edgren

Mastered
Björn Engelmann
Cover Photographer
Magnus
Designers
Musical Style
Edit
This is the first Stoned Album that features only One Ska Song(The Only One).They started to play more Skate-Punk.