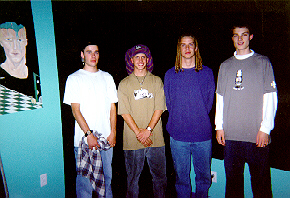 Fat Chance was a skatepunk band with keyboards from Lindsay, Ontario, Canada.
Biography
Edit
Skatepunk band that comes from Ontario, Canada. The guys started in early 90's, and where influenced by this fast epitaph/fat style. What is particular with Fat Chance is that they added keyboards to their songs, and the result is amazing! The songs can be described as fast and technical progressive punk, and are very original and well built. The band is now defunct but some members started another similar project called Hypercricket.
Chris Ford - Guitar / Vox
Scott Hazelton - Keys / Vox
Jaysun Siford - Bass
Jeremy Drury - Drums
Discography
Edit
1994 - Do Not Pass Go, Do Not Collect 200$
1996 - Bologma (CD / TAPE)
1998 - More Hairy Than Chewbacca
2001 - M.A.S.S. D.E.B.A.T.E.
Community content is available under
CC-BY-SA
unless otherwise noted.