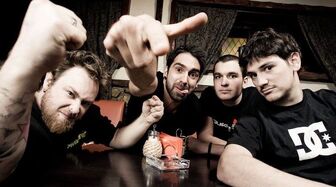 Forus is a band from Bayonne, France. Fans and critics hail them as a very technical band amongst the skate-punk scene.
Biography
Edit
Forus was formed in 2006. Since the beginning, their main objective hasn't changed: play fast and play hard, without caring of success.
In 2010 Forus recruited the talent of Bastien Lamarque (guitar) and Emmanuel Poutet (bass), now entirely integrated beside Michel Garcia (vocals and guitar) and Rémi Lafargue (drums), the only two original members.

The band self-released a demo, "Start From Zero" (2005) which created a buzz around France, but it was not until they were signed to Bells On Records and recorded the EP, "Aaron's Revolution" (2008) did they gain high popularity. After a hiatus due to the band focusing on school, they were a part of the Bells On Records split CD "Coalition" (2010), along with Play Attenchon, Hero of Our Time, and Actionmen. In 2010, the band released "We" on Effervescence Records, a compilation of material from "Aaron's Revolution" and "Coalition".
Michel Garcia - Vocals & Guitar
Rémi Lafargue - Drums & Vocals
Bastien Lamarque - Guitar & Vocals
Arnaud Thoral - Bass
Discography
Edit
2005 —Start From Zero
2008 —Aarons Revolution
CompilationsEdit
Albums
Skatepunkers
Edit