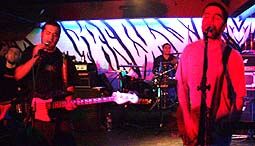 Happy Meals formed in Barcelona, Spain.
In 1993, in La Seu D'urgell (Lleida, Spain) Happy Meals were born. With the help of Bcore record label they released their debut E.P "Anomy." This was the starting point for one of the most important melodic hardcore bands in Spain's history. After this first demo and with the help of the spanish label Outline Records, they published their debut full-length "Toaster" in 1999, which was critically acclaimed by fans and the press. Shortly after adding Gerard (later on he would join Maple) as the new bass player and singer they started to tour across Spain. After the release of a split CD with Abraxas in 2001, they shared stage alongside more popular acts, such as The Undeclinable Ambuscade, Samiam, The Get Up Kids, and Social Distortion.
After those tours, Happy Meals reinvented themselves in their song writing with slower tempos and pop hooks and entered the power-pop genre. Soon after, Happy Meals (with Edgar Beltri from Uziel/Maple playing bass) released their second, and last album 'Co-Pilot' and dissolved shortly after.
Guillem - Vocals & Guitar
Roderic - Drums
Albert - Guitar
Gerard - Vocals & Bass
1999 — Toaster
2003 — Co-Pilot
2001 — Split with Abraxas
Community content is available under
CC-BY-SA
unless otherwise noted.