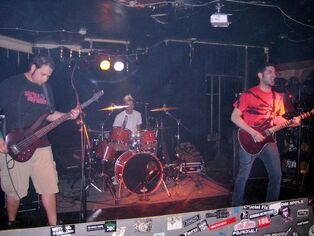 Hero of Our Time formed in Dunedin, Florida in 2006.
Biography
Edit
It wasn't too long after that when they recorded their debut EP "Civilian", the band was quickly picked up by Bells On Records whom released their EP. Soon after, they released a split with Skumdum, a Swedish trallpunk/skatepunk band on Bells On Records. The record was titled: "Skumdum Vs. Hero Of Our Time - 2 Sides Of The Story" and was released in late 2008 by Swedish label, Junkyard Entertainment and Japanese label, Bells On Records. In 2009 Hero of Our Time was a part of a four-way split entitled "Coalition", which was released by Bells On Records, which included some of the label's most popular bands: Actionmen, Forus, and Play Attenchon. Hero is now writing & demoing songs for a full length record.
Danny - Guitar & Vocals
Austin - Drums & Vocals
Nate - Bass & B. Vocals
Past Members
Edit
Tony - Lead guitar (2006-2008)
Discography
Edit
2008 — 2 Sides Of The Story - Split with Skumdum
2009 — Coalition
Skatepunkers
Edit
Community content is available under
CC-BY-SA
unless otherwise noted.