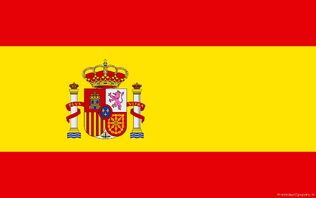 This is a list of Spanish Skatepunk bands by state.
Andalucía / Andalusia
Edit
Absenta
Dead FM
Dicrotic
G.A.S. Drummers
Goblins
La Venta er Nabo
Louder Than noise
Petako
Snoopy's Nightmare
Asturias / Asturies
Edit
11 Fingered Boy
All My Fault
Amplify
F.Side
Flashback
Hard-Ups
Last Titans
Marshcrannies
Me Fritos and the Gimme Cheetos
Misiva
Nocivos
Núcleo
Preventive Suicide
Stupidfacientes
The Black Panthys Party
The New Ones
The Rises
ThreeWordName
Aragón / Aragon
Edit
Islas Baleares / Illes Balears / Balearic Islands
Edit
Fast Food Society
La Rage
Main Line 10
No Children
No More Time
One Foot
País Vasco / Euskadi / Basque Country
Edit
3 Minutes Left
5000 R.P.M.
Adrenalized
Bajo Presion
Critikers
Ezinean
Halore
Hesian
Mantisa
No Toxic Pine
Playground
XXL
Castilla y León
Edit
Cataluña / Catalunya / Catalonia
Edit
Abraxas
AiD
Anchord
Apart
Amphetamine Eaters
Blowfuse
Chain Reaction
Estúpido Yo
Explicit Language
Extracto de Lupulo
F.A.N.T.A.
Fastloud
Kids Of Rage
Los Tronchos
NoWayOut
Nunnery Nutty
Paüra
Read My Lips
Silversuck
Sparring
Switchstance
The Holybuttons
The Red Sexy Band
Galicia / Galiza
Edit
As Flames Die Out
Codias
Less Fortunate Songs
Morgen
Saldos Arias
Islas Canarias / Canary Islands
Edit
466/64
En La Distancia
Enterrador
Fantastic Four
Fight For Unity
Good Fellaz
Grind FK
Milk Fiction
Pollution
Wreckage
13 Segundos
Bladders
Bonustrack
By My Oath
Fast Food
Hiperköre
Never Draw Back
Nitropollo
No Ways
Not For Sale
Sad Man Said
Silly Sally
Stollen Wallet
Strawberry Hardcore
Sugus
Ten Minute Man
Wipe Out Skaters
xInerZia
Zinc
Comunidad Valenciana / Comunitat Valenciana / Valencia
Edit
Abisme
Aznar Youth
Bates Motel
Delest
DjVu
Kill The President!
Leave It To Me
Monkey Hole
Nollie To Glory
PUK2
Sarabix
Spin-Off
Stoke
Why Not?
Community content is available under
CC-BY-SA
unless otherwise noted.