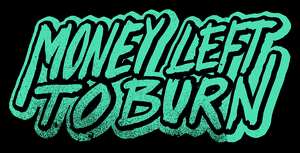 Money Left To Burn is a skate punk band from Nuremberg, Germany.
Biography
Edit
In 2010 Money Left To Burn (MLTB) formed out what used to be Nuremberg's skatepunk-scene to bring back fast and straight punkrock to their hometown. Skateboarding and social criticism - with this fine mixture MLTB played more than 100 shows, toured the UK, France, the Netherlands, Belgium and Czech Republic and shared the stage with bands like Strung Out, Dog Eat Dog, Agnostic Front, ZSK, Mute and Banner Pilot.
The band released their first 6-song-EP in the end of 2011. In 2015 they released a split EP with Rebuke from Gothenburg, Sweden which contains five songs of each band.
Alex - Vocals
Mart - Bass
Andi - Guitar
Marshall - Guitar, Vocals
Jonny - Drums
Discography
Edit
2011 - Sucker (EP)
2015 - Split w/ Rebuke (EP)
Skatepunkers
Edit