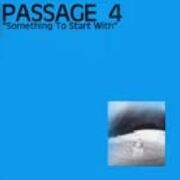 Something To Start With is the first E.P. released by the Swedish Skatepunk band Passage 4. It was released in 1995 by Wounded Records as a CD.
Tracklist
Edit
Endville [3:41]
Thousand Years Of Secrets [4:17]
Wrong [2:40]
Team [1:58]
Try To Change [3:15]
total running time: 15:50
All songs and lyrics were written by Passage 4's drummer Jocke Eriksson.
Recording and production
Edit
Recording took place at Studio Underground in Västerås, Sweden in February 1995.
Personnel
Edit
Producer
Passage 4
Co-Producer
Pelle Saether
Sound Engineers
Mixing
Pelle Saether
Additional Musicians

Lifeless Image (vocals for "Team")
Peter G. (vocals for "Team")
Angelika Holmberg (vocals for "Team")

Cover Photographer
Angelika Holmberg
Designers
Music Video
Edit
For the song "Team" (track # 4) a music video was shot, which was a minor mainstream TV-hit in Sweden and allowed the band to tour all over Sweden. The music video can be watched here.
Musical Style
Edit
On this E.P. Passage 4 lost the Ska influences they had on their demo tape. The shift torward the melancholic and Emo influenced sound of their full-length debut World Circus is already hearable, it is just not as perfected as on their album.
Skatepunkers
Edit
Community content is available under
CC-BY-SA
unless otherwise noted.