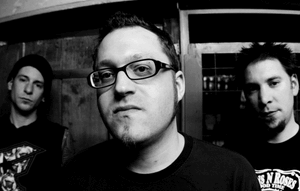 The Plastic Smile is a melodic punkrock band from Ludwigsburg, Germany.
Biography
Edit
Starting in 1994 during the 1980s newschool revival, the band soon established as a classical 3-piece and stayed this way, with the same personelle, ever since.
As Scrambled Eggs they released 4 albums and 2 EP's until they changed their name to The Plastic Smile in 2010.
The band played numerous shows and supported acts like No Use For A Name, Lagwagon, Beatsteaks and Donots.
Martin Werner - Vocals, Bass
Dominik Stammler - Guitar, Backvocals
Daniel Stammler - Drums, Backvocals
Discography
Edit
As The Plastic Smile:
2010 - The Plastic Smile (Album)
2014 - Hearts & Souls, Flesh & Bones (Album)
As Scrambled Eggs:
1996 - Automatics For The People (EP)
1997 - Chicken On A Stick (Album)
1999 - P-Rock (Album)
2002 - ...In Need Of Some Rock (Album)
2004 - 1994 (Album)
2007 - The Queen Of Heartache (EP)
Community content is available under
CC-BY-SA
unless otherwise noted.